Our Speech and Language Therapists work with children who have a wide range of difficulties such as:
Problems with speaking, listening to or understanding language
Attention, memory and concentration difficulties
Social and interaction skills
Auditory Processing Difficulties
Understanding and using language to access the curriculum
Children who are unable to talk or communicate verbally
Feeding & swallowing difficulties
Speech & Language Therapists are able to help with a wide spectrum of difficulties, ranging from the specific oro-motor skills needed for speech and feeding, right through to helping children to succeed in the classroom, by differentiating the curriculum and providing training for school staff. Our therapists work with children from birth up to the age of 25, supporting with the transition into adult services. We are able to utilise a range of specialist assessments, to design and deliver a unique therapy program for each child. We work with children who have profound and multiple learning disabilities, through to supporting students through GCSE and A levels at mainstream schools.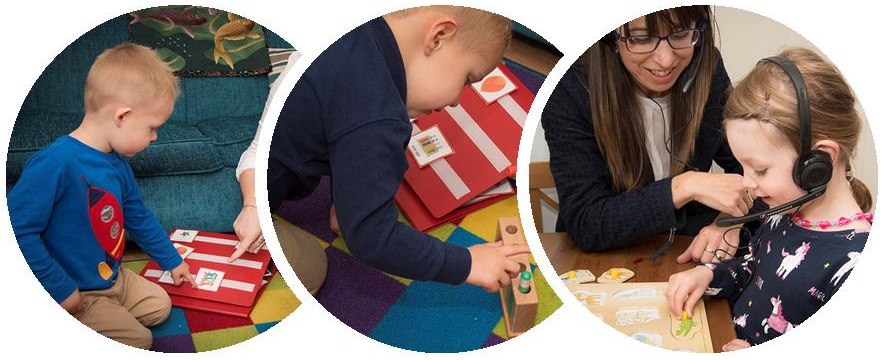 Our Speech & Language Therapists:
Natalie R Morris, MSc, BA (Hons)
Natalie is the clinical lead for our Feeding and Therapy Clinics. She has an undergraduate degree in Psychology and qualified as a Speech and Language Therapist at University College London in 1999. Natalie has extensive experience working with children who have a wide range of complex speech, language, communication and feeding difficulties. Natalie has developed speciailist clinical skills in assessing and treating children and adolescents with neuro-developmental disability and acquired brain injuries. She is a qualified TalkTools practitioner for the treatment of Sensory-Motor feeding difficulties and has undertaken Bobath training for the treatment of motor-based feeding and communication difficulties. She is also experienced in assessing and providing therapy programs for children who require the use of alternative communication systems, using a range of access methods, including Eyegaze technology. Natalie has a special interest in Cerebral Palsy and brain injuries. She has undertaken clinical research to develop innovative practice and presents at conferences. She undertakes expert witness work for tribunal and medico-legal cases.
Natalie has always worked within multi-disciplinary teams and will work alongside local therapists, medical and educational practitioners to enable your child to reach their full potential.

Karen Sheffield, BSc (Hons)
Karen's clinical specialism is neuro-developmental disability, which incorporates alternative & augmentative communication (AAC) and paediatric dysphagia (children's feeding and swallowing disorders). Karen qualified as a Speech and Language Therapist in 2002 from Birmingham City University. She has always worked in paediatrics and mainly within the field of complex medical and neuro-developmental disability. Karen's approach is holistic and functional; working with the team around the child to enable them to reach their full potential. Karen is a Regional Makaton, a level one accredited Sensory Integration Practitioner, ICan accredited tutor and assessor and an ELKLAN accredited trainer. She has knowledge of working with a range of low and high tech methods to support and develop children and young adult's communication skills, including; eye-gaze technology, switching methods, symbol assisted communication, use of specific communication aids and Makaton signing.

What our parents say about our Speech and Language Therapy:
Jack was very engaged in the sessions, each activity was kept short to keep him focussed and then moved on to a new activity which kept them fun and him interested as Jacks focus can wander quite easily especially when bored.

He has had one session from the NHS SLT and the difference in approach and enthusiasm is enormous and I'm just so glad and thankful we are in a position to be able to bring Jack for SLT with you, as I really worry what would happen otherwise with him.

*All of our Speech & Language Therapists are registered members of the Royal College of Speech & Language Therapists, the Health Professionals Council and are fully CRB (Criminal Records Bureau) checked.